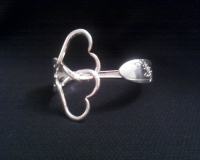 Fork Bracelets
Home > Shop > Fork Bracelets
The Swartz Group presents Art by Johnny. This is his Intertwining Hearts Bracelet.

The HEART INSIDE FORK BRACLET is spring hinge. 6 1/4 inch inside circumference/medium. Handmade from a recycled silver-plated dinner fork.


These INTERTWING HEARTS bracelets are made from recycled dinner forks. The tine patterns are the same with every fork, only the handles differ. Each one...